Nightclub Flirting Becomes BBC DP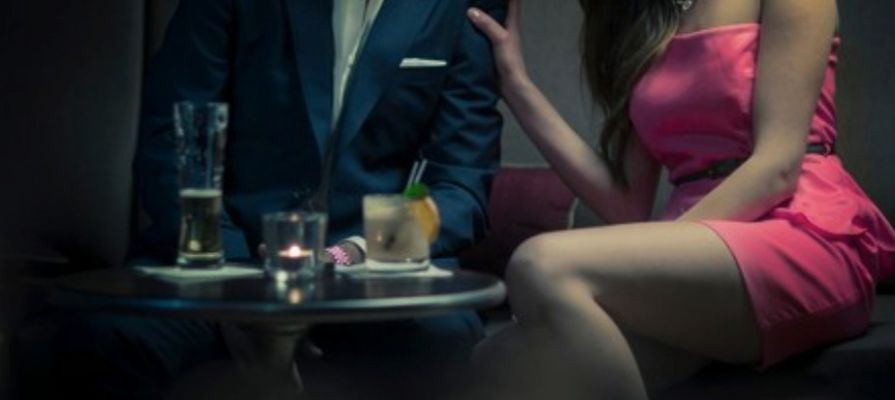 Weekend, the city was in full swing. Emily, sick of the daily grind, was excited to go out that Saturday and it wasn't just any Saturday, it was December, Emily's favorite time of the year to party.
She was a slim blonde with small tits and an upturned ass, a very attractive and adventurous woman. She liked to party, alone or in the company of a friend.
That night, none of them were available, some had dates, others were out on a trip, so Emily went out alone. She wasn't going to stay home alone because she had no one to go out with.
She would get someone on the way. She went to one nightclub, then another, and in all those places she got someone to dance with, and men to buy her drinks.
She was wearing a very low-cut dress that showed part of her small breasts, and her ass was tight, which made it look round and provocative.
She was having a great time, she had seen a couple of guys she knew from the city's nightlife, and she greeted them enthusiastically. She noticed, near where she was talking to her friend, a couple of attractive black men, looking at her closely.
She had stopped her beautiful smile halfway when she noticed this. They raised their drinks by way of greeting in her direction, she definitely smiled. Emily's friend being a little drunk didn't notice anything.
"Well, I should get back. Nice seeing you." He said with a goofy grin, and left.
Emily approached the bar to order more drinks, but one of the black men offered to pay for it.
Emily accepted, for why shouldn't she? The men were tall, dark, handsome, and well dressed, elegantly and tastefully. Emily was impressed.
She took the drink, and struck up a conversation with them. The men were roommates, she was told, and after a couple of drinks, words were in short supply.
Their names were Will and Marcus. Will was more muscular, but not by much. He was the first to kiss Emily, and touch her breasts slyly. She was already drunk, she let him, that man was a good kisser.
Will's lips were fleshy and soft, she bit them gently, and felt warmth in her center, which made her hairs stand up. Will released her, and without waiting, Marcus took her in his arms and kissed her as well, thrusting his tongue even deeper into Emily's mouth than Will.
She sucked on it, and immediately wanted to be fucked. The urgency grew stronger, and they kept taking turns kissing her. With each new kiss, they went further. Will touched her ass, and with that it was clear they had to go.
They took her to their apartment, Emily was aroused and hadn't exchanged two words with these men, just enough. They were sensual, and those kisses had made her horny.
The three of them went straight to the bedroom, where the friends accosted Emily in haste. The tiny dress she was wearing soon disappeared. Will was kissing her and Marcus from behind was fondling her tits.
Emily overwhelmed, but so turned on she could burst, tried to keep up with them. They turned her around, and switched places. Marcus was sucking on her breasts, and they were so small, they were whole in his mouth with no effort at all.
Will was spanking her ass, kissing her neck, and back until she came down and he put his face between her buttocks. She wasn't expecting it, but she didn't say anything, she had Will's tongue in her mouth.
She massaged it and also enjoyed how Marcus licked her asshole. Then he stood up and pushed her by one shoulder so that she was bent over.
Very obediently, she did, she knelt down and they pulled out their big cocks, they were long and hard, so much so that Emily thought they would hurt her. She couldn't believe what she was holding. Will lectured her to suck his first, and Emily listened.
She opened her mouth wide and Will thrust his hips, forcefully driving that huge cock into the girl's mouth. She took over soon after, and sucked, and licked eagerly.
She pulled it out after a while to insert Marcus's cock. It was a little shorter, but only a little. She devoured it while masturbating Will. They with their hands on their hips would throw their heads back and look at her again, as she sucked those cocks eagerly.
Saliva hung from her lips and dripped onto her tits and onto the floor. She looked into their eyes, and as it was Will's turn at the moment, he waved his cock against Emily's tongue, while Marcus did the same to her breasts. Marcus then pinched her nipples.
Marcus's turn had come, his cock sliding between Emily's teeth smoothly and easily. It reached all the way down her throat and choked her, but in a delicious way.
Will was giving her a few slaps and he was making a bulge in her cheeks with his cock. Emily was so wet that it was already a full river between her legs.
She turned the cocks much faster, and they went wild. She sucked quickly, and forcefully, her head moving at full speed. The excitement of the three of them reached a peak.
The bed was close by, she didn't know whose bed it was, but she didn't think about it seriously.
Only with curiosity. Will led her there, and lay down first. Emily wrapped her legs around him and kissed him, straddling him. Marcus kissed her neck, and settled on his back.
She sat on top of Will's cock, and as she settled in, Marcus pushed her forward so he had enough room to maneuver. This turned out well, but as she realized what he intended, she screamed.
Still, it was too late, and Marcus penetrated her ass, while Will had rammed her pussy.
They both moved cautiously, but with precision. Emily had two cocks inside her, and needless to say, she was enjoying it. The screams began, and the moans were not long in coming.
Emily screamed for more. She would have liked to have a third cock shoved all the way into her mouth as well. Why not… both friends were setting a solid rhythm, and their cocks inside Emily felt great.
She screamed, for the sensation was heavenly, otherworldly, she had never done it, and now that it had happened, she wasn't going to trade it for anything. The men were kissing her at the same time and making her feel very wanted.
The pain was a small part of it all, but it collaborated with the pleasure. Marcus moaned and Will grunted, which made Emily increase the sounds that came out of her mouth and made her go wild.
So much so, that Emily came like never before in her life. They both stopped as she screamed and clawed at Will's chest. Emily almost collapsed, but she didn't give up.
Emily wanted more.
Their movements became faster, and far from slowing down, they increased the speed until they both let out loud moans and came hard inside her. As she felt it, she came a second time and harder.
The friends left Emily at home.
She wanted to leave, and rest. The night had been a lot of fun, and going alone hadn't been bad at all…