Laundry Service For Her Ex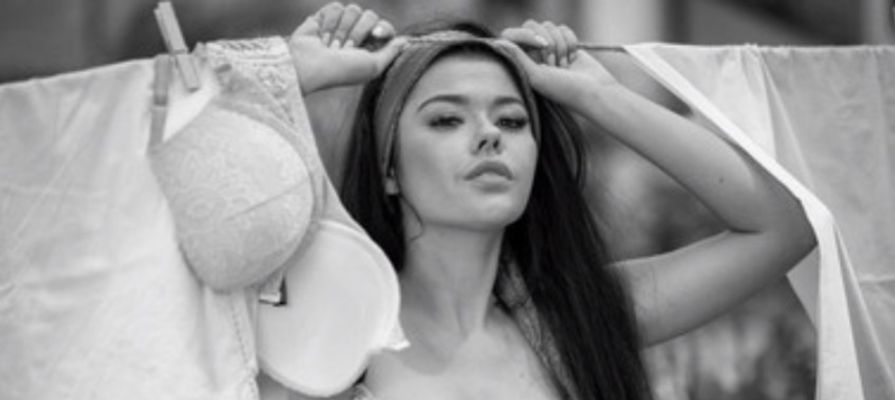 It was late in the night; Sarah was alone in the 24 hours Laundry Service in front of the building she lives. She liked washing her clothes at that moment since it was all alone and she could use the machine she preferred.
She heard someone walking in as she placed her clothes inside the washing machine. Sarah turned around and of all the people that could have walked in, her ex: Marcus, was the one standing in front of a machine.
They had broken up last month when she found out he was cheating on her with another girl, a couple of days later he started publishing pictures with her, introducing her as his girlfriend. She obviously wasn't on good terms with him.
"Oh great," Marcus said, regretting walking in.
"What are you doing here? Hiding from your new girlfriend already?" she asked him, holding a grudge against him.
He then leaned down on the floor and picked up a piece of clothes she accidentally dropped on the floor when placing her load inside the machine, he then expanded it and realized it was a thong.
He tilted his head, "still wearing the lingerie I bought you for other men?"
Sarah snorted, then she walked up to him, "Yes, and it's pretty fucking fun when they cum all over it, now give me that!"
She ripped the thong from his hand and walked back to the machine she was using, placing her thong inside her bin.
Sarah ignored him; she kept on putting her clothes inside the washing machine. Then she placed a coin inside and turned it on.
Marcus stood a couple of machines away from her and started putting his load inside one of them. Sarah looked away, trying to avoid the need of criticizing him at all times.
After a while and noticing he was going to stay there until his machine was over, she decided to push his buttons a bit and get her payback for the pain he caused her. So, she started placing another load in a machine next to her.
Once she was done, she started taking off her denim shorts and threw them inside, remaining in her tin thong, Marcus noticed it and then pretended to look away, then she removed her shirt revealing a sexy lace bralette.
Then she started the machine and sat down, crossed her legs, and continued playing on her cell phone. She started moving on the chair, spreading her legs wide open and then crossing them again.
Marcus was having a hard time focusing on looking away. Then she started taking selfies and giggling, when she noticed he seemed outraged she smiled at him, "They're for Johnnie, he has such a huge cock," she lied, then she looked down at him, "way bigger than yours," she lied again.
"You're such a slut," he said, protecting himself from her.
"And you're so fucking jealous, I guess it must be really hard to see me this way and not touch a single hair," she said caressing her arms and breasts.
He ignored her, "I wonder what you've missed the most," she then placed her phone on the table, "maybe my ass clapping against your crotch? Or maybe your cock sliding between my tits?"
He then stood up, and caged Sarah against the washing machines, "nothing, I still have all your slutty pictures to help, and a good wet pussy waiting for me at home."
"You're such a pig," she said slapping him. Marcus gripped her wrists and pushed himself against her center, she felt his soft bulge against her leg. Then, Sarah started giggling, "are you sure she's not being fucked right now?"
Marcus leaned forward, just an inch away from her lips, pushing himself even more against her body. Sarah felt his warm breath fanning over her face. Having his body again so close to her was warming her up badly. "Maybe what you've missed the most is being said no."
Sarah lost it when she thought he would kiss her and instead, he pushed her down on her knees, and placed her hands on his crotch.
"Tell me that you missed me," she said to him as she waited for him to pull it out.
"No," he said showing her his big fat cock. She wanted it so bad. "Now, choke on it," he commanded.
Sarah wrapped her hands around his length and started sucking his head, she had missed his taste so much. Then she started gagging on him, taking him as deep as she could. To Sarah, there was nobody like Marcus, and she had missed him badly since he left her.
Then she pulled out, "I love it when you get mad, it only makes you fuck me harder," she said, jerking his cock as fast as she could.
Marcus pulled her up and carrying her in his arms, he placed Sarah on the folding table, then he spread her legs and started running his tongue all over her entrance, tasting her and drinking her juices.
Sarah loved every second of it, "give me your ass, I want to feel it," he commanded. Sarah jumped off the table and leaned over it, exposing her holes to him. She felt his big fat cock entering her and she welcomed it with a loud moan. "Yes, daddy, it feels so fucking good!"
He started fucking her deep and slow at first, and then he increased his speed as he felt her pussy clenching on him. Sarah was incredibly aroused; his cock would come out coated each time he pulled just to push it in again.
Then she started moaning even louder, his swollen cock rubbed against all the right places and she was losing her control, "I'm gonna cum, Marcus, please make me cum," she cried.
Marcus then stopped completely, smirking, "what do I get if I make you cum?" he asked.
"My pussy whenever you want it, I wanna cum all over your cock every night, please make me cum!" she cried. Marcus then started thrusting deep and hard inside her, relentlessly moving as her entire body began convulsing around him.
"Yes!" she moaned as her intense orgasm exploded in every vertex of her body, making her scream in pleasure.
Then Marcus pulled out, and started jerking his cock fast while she recovered, in a couple of seconds, he was spurting his load over her buttocks with a loud grunt, coating her round curves with his creamy cum.
He panted and then, cupping her hot pussy, he nailed his eyes on her, "this pussy is mine, only mine."
"Yes Marcus," she said smiling as he walked away to clean up himself, then she grabbed her phone and stopped the video recording, "in your dreams," she said to herself. Staring at Marcus, she searched for his girlfriend's profile and hit send.