Airport Terminal Hookup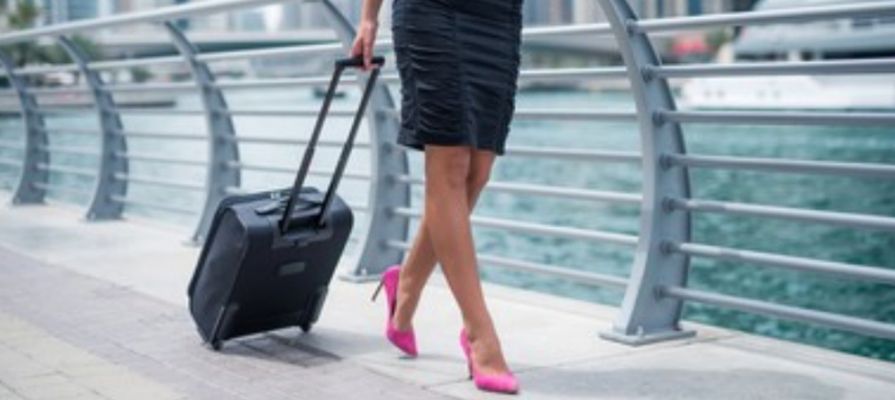 That was one of the most tedious trips Lily had ever experienced. She stood in the airport terminal very bored, with one hand under her chin, an unmistakably drowsy expression, and the cell phone dangling from her almost limp hand.
The phone narrowly stayed in her hand as it nearly fell to the ground. Lily woke up in time to realize that she had been like this for about half an hour.
She thought that was taking too long. She made a noise of annoyance with her mouth, and grabbed her phone to get on an app to keep her entertained.
The first thing she got herself was a dating app. She had downloaded it at a time just as slow as that, she smiled as she remembered that she had never used it, she had only registered on that platform.
Lily made up her mind to log in and give it a try. The app had a very peculiar search function. She could chat with people who were close to her. "Cool."
Lily thought as she started a conversation with a man who was in the same airport. It had all become interesting. Lily hurried to meet that handsome man at the airport bar. Finally, something exciting during that boring trip.
She grabbed her things, and practically ran to the bar. The man there was waiting for her, he was more handsome in person, and Lily felt excited. The drinks flowed, the man smiled, and complimented her.
Lily couldn't stop laughing at his jokes, and the sexual tension between them was palpable. Lily had only wanted entertainment, but it was turning into something more.
She forgot that in a few hours she would have to catch a flight. The bar was lively, and no one saw them scurry off to the bathroom.
Lily had wanted it that way after little thought. Lily was horny; she had been sending these signals to Cliff, the app man, for about ten minutes, maybe less. He caught on, and they were out of sight. They closed the bathroom door, and Cliff tackled Lily, cupping her face with both hands and pulling her to him. Lily reciprocated with exhilaration.
He had strong hands, and between his legs reigned a very hard cock, which had been like that for a while. Lily kissed him with appetite, with passion, his hands exploring her body, as they hurried to one of the cubicles.
Cliff lifted Lily's light dress, but she wouldn't let him do it, she knelt down to show Cliff what she was capable of. They didn't make it to the cubicle.
Lily's knees rested on that cold, wet floor, but it would be worth it, so she thought as she saw the enormity that was Cliff's cock. A very stiff, long, straight cock that Lily devoured in a matter of seconds.
She opened her mouth wide to accommodate Cliff's tool, it didn't quite fit, but she managed to get her mouth to do a good job. Lily's head was moving slowly, however, this soon changed.
Lily was giving it her best, and she could tell it was true, as Cliff squeezed her shoulder and drew her head in more, as he made noises of satisfaction, and urged her to move her head with more haste.
The cock was moving in and out of Lily's mouth with increasing speed, and Cliff was thrusting his head viciously. Lily endured because the cock was delicious, and it all turned her on in a big way.
Lily heard noises, still, she continued to suck Cliff's cock magnificently, she would take it all the way in, and then she would pull it out to run her tongue all the way down to his balls. Lily felt her pussy throb and moisten, and she slipped one hand in to slowly masturbate herself, as she took Cliff's cock further into her mouth.
The noises continued, and this time Lily looked up. A man had come in, and was watching, they thought they had closed the door properly, however, they had not.
Lily stopped sucking and licking for a few seconds to signal to the man who was watching her eat a cock. The man's eyes sparkled, and he licked his lips. Lily, aroused, didn't miss the opportunity to be with two men. The sign beckoned the man closer; the man wasted no time thinking.
Lily left Cliff's cock, and without so much ado approached the newcomer's cock, he was already very aroused, and Lily only had to take his cock in her mouth and suck it thoroughly as she did Cliff's cock.
The latter, thinking quickly, grabbed Lily by the hips preventing her from kneeling, this in order to fuck her while she sucked the other man's mouth. Lily didn't object, on the contrary, she was grateful that she did. Cliff penetrated her without much ceremony, letting his member filled with Lily's saliva enter her wet cave.
Lily accepted this good-naturedly, still sucking like a madwoman, looking the unknown man in the eyes, and wanting terribly to moan, and tell Cliff to fuck her harder and faster.
She longed for him to assault her, to assault her hard, to leave her trembling. She didn't, for that man's cock was also exquisite, not as big, but definitely no less exciting for that. Unable to keep quiet, Lily pulled his cock out of her mouth to say:
"Quickly, please, harder, Cliff…" Between sobs and moans of pleasure.
She had only wanted to moan freely for at least an instant. Then she returned to the task she had been doing. Cliff accelerated his movements, he was dropping his pelvis on her buttocks, faster and faster, and with more and more power.
He was holding her tightly, and using her as he pleased. Lily had another man on the opposite end, and she sucked his cock voraciously. The man soon fucked her face as well, before both men switched places.
The newly arrived man sat on the toilet, on top of him sat Lily, and Cliff positioned himself to the side to present his cock to Lily. She was jumping on one man's cock and sucking another man's cock.
Lily was moving her hips wildly, and the man was grabbing her waist to lift her higher, no doubt in an attempt to make her go faster than she was going. She was straining to keep up, something that would serve them all well, and she was succeeding in this endeavor. Cliff buried his member deeper into Lily's mouth, as she wiggled with momentum until she felt she was close to climax.
Lily intensified the way she moved, and she came all over the unknown man. He could tell, not only by the noises Lily was making, but because everything had become extremely wet.
In order to be able to scream freely, Lily pulled Cliff's cock out of her mouth, and relieved herself while still feeling a lot of pleasure, as she still had a cock inside her.
Lily knelt down once more, and the first release was from the man they had not invited from the beginning. Lily received it in her mouth, and she swallowed it all.
Cliff took a little longer, but in the end he was able to unload all of his cum into Lily's mouth. She likewise swallowed Cliff's hot semen. The man who had come later had left after that, and Cliff and Lily went back to the bar to continue waiting.
Lily's boredom had been forgotten, and she had twice as much fun on this trip that would have been very monotonous but for that prelude…