Borrowing Her Sister's Dildo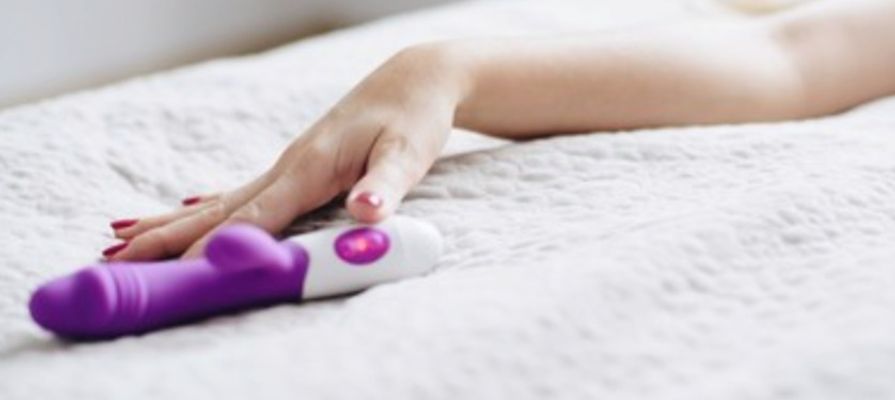 The evening had gone quietly. Mia was hating this, as the boredom was weighing her down. Mia was a blonde, slim girl with small, pert tits and a pert ass.
She was lying on a couch, wearing very short shorts, wishing she could dress sensually and go out, but she hadn't met anyone, and the night had gone far enough.
Mia resigned herself to staying home that night. Since Mia's sister wasn't home, she went to her sister's room to take a look around. Mia got up from the couch with a curious expression on her face. What things would Mia's sister keep in her room?
It was the perfect time to find out. Mia wasn't wearing a bra, and her nipples were visible through the T-shirt she was wearing
The light from the hallway hit Mia's breasts squarely, and they were more noticeable than ever. Had a man been present, his cock would have steepened without any delay.
Mia reached her sister's room and carefully opened the door. The silence was deafening, but soon she got used to this, she turned on the light and began going through her sister's things at random.
Clothes were neatly arranged, accessories, and makeup were well placed, and everything was impeccable. Mia was disappointed that she hadn't found anything interesting.
Just as she was about to give up, she caught a glimpse of a drawer she hadn't noticed before. Mia adopted a suspicious smile, and she opened the drawer.
Mia's eyes sparkled, and she pulled out the object. It was a very large dildo, an 11-inch alien tentacle. A monstrous thing.
Mia burst out laughing at the sight of the contraption. It looked just like a tentacle, the dildo had protrusions everywhere, and the shape was very similar to the aforementioned.
Mia, without thinking too much about it, took it. Curiosity got the better of her. Who would have thought that Mia's sister had something like that in her room?
"She had it very well hidden." Mia said to herself with a smile painted on her face.
In Mia's room, she lay on her bed on her back and began to play with the large dildo. This one was a light blue, transparent color, and those nubs tickled Mia's fancy.
She, once she was more comfortable, removed her shirt, leaving her small breasts in the air.
She slid the dildo across her nipples, and she found that it felt very soft, which gave her pleasure. Mia was just playing. She had not removed her shorts.
However, the game was getting more and more serious. Mia felt her pussy slowly but progressively getting lubricated.
She moved on to rubbing her other nipple, and it became hard in a matter of microseconds. Mia's mouth was already open, she was smiling, but she was surprised at how good it felt.
The tentacle dildo was effective in many ways. Mia thought that after returning it, she needed one like it. She didn't think it would be hard to get it, but it had to be one like that, the same size because she couldn't imagine herself with anything smaller than that. No, no way.
She slid it gently from her small tits, down her abdomen, to her clitoris. She, at that place, stopped. Her clit grew in a matter of seconds as it came in contact with the surface of the dildo. She squeezed, then moved the device for only a few seconds.
Mia's mouth hung open in a moan that still wouldn't come out. She lifted her head and watched as the dildo rested on her engorged clit. She didn't move it.
When she did it again, the enjoyment she felt was total. Mia squeezed the dildo on her clit again, this time, harder, and the result was that she moved the device faster, as her increasing lubrication took over the whole situation.
Mia rested two of her fingers on her nipple. She was carrying out both at the same time masterfully, with the dildo exploring all her nooks and crannies before anything else.
On this occasion, it was over Mia's clit, which brought spectacular pleasure to her. Mia was static on her bed, fearing that if she moved she might lose the sensation she was experiencing.
Mia moved the dildo faster, and this served to make her wet in a way she hadn't been in a long time.
The reality was that this dildo, so far, had been the best she had ever tasted. So she took her time, playing with the different parts of her body, stimulating every last hiding place.
She placed the dildo over her ass, and slid it back and forth, feeling her pussy release odorous fluids that made her feel she was ready. Mia hadn't moaned yet, but she was moaning loudly, and letting out faint whimpers.
She brought the tentacle dildo once more to her clitoris, she touched the entrance of her vagina in the meantime, and she realized that her fluids were already trickling down to the bed.
Mia opened herself wider, and once and for all, she penetrated herself with the dildo. Every inch of that contraption felt like glory itself. It was amazing how its protrusions, or suction cups, were giving her the ultimate pleasure.
Mia opened her mouth and moaned with everything she had. Her exaggeratedly expressive eyes denoted how much she was enjoying it. Inch by inch the dildo went in, and without going fast, Mia knew the good stuff was yet to come.
Once it was in, she moved it viciously. She fucked herself with the dildo as a force bordering on paroxysm.
Mia was very aroused and was showing it in this way. She used at first both her hands for this task but then moved up to her breasts to squeeze them and rub her nipples, as the dildo worked its way deep into her pussy, and perhaps beyond…
Mia started hard, fucking herself with great ardor, as fast as her hands could go. She was screaming already at that point, and her bed was squeaking with great outrage.
Mia was very close to orgasm, and she went on to pinch her breasts so hard, as to make her hurt herself. Mia was having the time of her life.
That dildo was gigantic, but she knew how to house it inside her. Mia's moans produced a din that could be heard for miles. She had given herself over to the sensation completely. Mia was violently sliding the dildo into her vagina.
The dildo was tight in Mia's cave, and she felt herself coming already. She rammed the tentacle about three more times with force and determination, and she came with power. Mia lay trembling on her bed, pulled out the dildo, and a stream of fluids came out as well.
However, she didn't have time to relax. She had heard a car coming and knew it was most certainly her sister. She hastily grabbed the dildo, and running at full speed, she carried it to her sister's room.
On the way, she thought of something else and she got sidetracked. She only had a few seconds to go to the bathroom and squirt some water on the tentacle.
That had to suffice for now, and then she went finally up to her sister's room. Everything was as gloomy as before, it took a few more seconds to light up the drawer from before. Placing it in time, she thought…